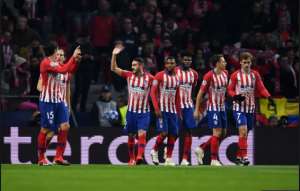 Thomas Teye Partey has applauded his Atletico Madrid teammates for the spirited performance in Wednesday's 2-0 triumph over Monaco in the Champions League.
The Rojiblancos booked their place in the next round of the championship courtesy of goals from Koke and Antoine Griezmann at Wanda Metropolitano.
Diego Simeone's outfit sit two points above second-placed Borussia Dortmund, who held Club Brugge to a scoreless draw in the other Group A fixture to secure the second qualification ticket with a final round of a game to go.
"We did a great job today," Partey said after the game, as reported by his club's official website.
"We deserved the win and now we have to think about the next match.
"We're strong, we're a team.
"We're doing well and we have to continue like this."
The Ghanaian played a pivotal role in Wednesday's victory, his top performance in midfield helping his side secure a clean sheet.
It was his first outing in the Champions League this term.
Atletico's next game comes in the Spanish La Liga where they play away to Girona on Sunday.