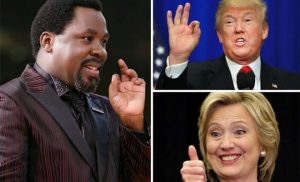 In a widely-publicised prophecy on video and on Facebook, TB Joshua stated emphatically that Hillary Clinton, the Democratic Party nominee, would win the election.
But Donald Trump ended up winning, prompting many Africans to mock him.
But in a statement posted on Facebook after the election, TB Joshua fired back at his critics, saying that they were interpreting the prophecy on the "basis of their own minds and ideas".
He suggested that his prophecy had been accurate because Hilary Clinton won the popular vote.
"The prophecy seems to cause uproar to many who gave it different meaning and interpretation," he said.
TB Joshua also hit back at those who had called him a false prophet.
"We have seen the outcome of the election in America. Having read, you will notice that it is all about the popular vote, the vote of the majority of Americans.
"In this case, we need the Spirit of a Prophet to recognise or to know a Prophet. Our levels are different. We are not on the same level," he said.
The prophet concluded on a positive note, asking for unity among Americans now that the elections had ended.
"…campaigns and elections in any democratic country in the world are never about one person, it is about the country we care and love. Whichever way it happens, we must accept the outcome and then look to the future… Democracy is all about accommodation. All democrats must value the process of democracy more than the product," he said.