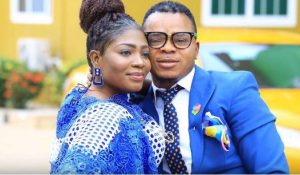 It is very rare, in our modern society, to find someone who maintains the same standard of faithfulness, compassion and morals in situations where they seem to be engulfed in various storms of life.
But the wife of the leader of International God's Way Church (IGWC), Mrs. Florence Obinim, continues to maintain and demonstrate a great sense of integrity both in private and public settings despite many turbulences and challenges along the way.
One would notice that the well-renowned gospel star does not actively engage herself in political issues.
However, it also appears that she does not want to live to witness Ghana experiencing any political turmoil during and after the upcoming parliamentary and presidential elections.
As Ghana is heading towards the polls in December this year, Mrs. Obinim, who is credited with her sense of maturity in influencing and changing households through her Word of Wisdom programme, has called on Ghanaians to desist from any act of unnecessary arguments and controversies that could cause unprecedented political unrest in the country.
Mrs. Obinim made this appeal in an interview with a UK based radio presenter, Nana Danso (on Power Centre Radio – London), ahead of the release of her latest album – 'Asafo Awurade'. She further prayed for the peace of God to reign over Ghana and also asked all Ghanaians to unite in oneness in order to let the peace of God continue to prevail in the country.
Touching on the tracks on her latest album, the gospel legend mentioned that "there are four songs on the album and every song has its own message to the public as directed by God".
Mrs. Obinim added that her songs aim to inspire, motivate and to encourage the children of God to testify about the good things that Father Jesus has done in their lives.
She backed her motive behind one of the tracks on her album, 'Mahyia Jesus'(I have met Jesus) by a verse in the Bible saying, "they overcame and conquered him by the blood of the lamb, and the word of their testimony."
In conclusion, Mrs. Florence Obinim thanked all her fans and the general public for their continuing prayers and invaluable support.