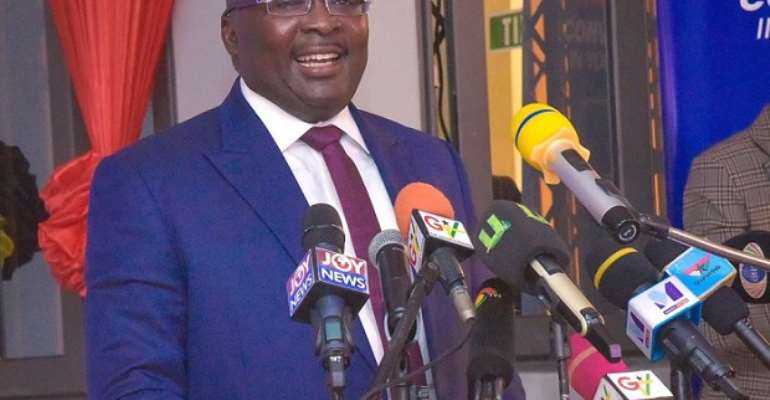 Vice-President Dr. Mahamudu Bawumia appears to ruffle the feathers of members of the National Democratic Congress (NDC) anytime he seeks to 'counter' their propaganda with hard facts.
A response he gave to ex-President John Dramani Mahama, who is the NDC's flag bearer after accusing the New Patriotic Party (NPP) among other things of not managing the economy better, has sent them into a frenzy.
Mr. Mahama claimed last week that the economy under President Akufo-Addo was weak and had been exposed in just a month following the outbreak of the Covid-19 pandemic and gleefully mocked that the economy was on 'ventilators'.
Bawumia Jabs
The Vice-President, after meeting the Covid-19 Emergency Response Committee at the Jubilee House in Accra on Monday, had an interview with journalists where he challenged ex-President Mahama, who is staging a comeback after being defeated heavily as incumbent in 2016, to always speak with facts.
"Rather than keep quiet, it is the responsibility of all Ghanaians as we deal with these problems not to remain silent when untruth is being peddled, especially by such a high-ranking officers of state," he said.
Dr. Bawumia wondered how a former President whose administration could not even handle dumsor for four years could be making comparisons with a global pandemic like Covid-19.
"If you want to test the robustness of an economy, you test it in a time of crisis. Thankfully, we have had two crises. Under the NDC, it was an internally generated crisis, which was dumsor. Under the Presidency of Nana Akufo-Addo, there has been an externally generated crisis, which has been the global coronavirus pandemic.
"I just want you to ask yourself, how have these two crises been managed? The dumsor crisis crippled this economy for four years. What were the mitigating measures offered to businesses and individuals during the dumsor, an internally generated crisis?" the Vice-President fired.
"We saw that even during dumsor, electricity prices were being increased, fuel prices were being increased, teacher trainee allowances were being cancelled, and nursing trainee allowances were being cancelled. All of that was happening during that particular crisis," he added.
NDC Tantrums
The Vice-President's statement has since riled the NDC members whose leading figures and other sympathizers have taken to media platforms to launch a seeming 'war' with a hashtag #BawumiaMustFocus against the Veep.
Their members and surrogates, who always pretend to be 'neutrals' on social media, have been sharing the hashtag.
NDC Member of Parliament (MP) Cassiel Ato Forson, who was deputy Minister of Finance under Mr. Mahama, fired immediately Dr. Bawumia 'exposed' their flag bearer's 'lies' saying, "Comparing a pandemic to an energy situation that occurred because the NPP government failed to invest in power generation over an eight-year period only reflects the confusion that has characterized your recent pronouncements.
"In any case, it is inhumane to compare a pandemic killing human beings to an electricity generation problem that was resolved by the same government. It is time to caution Dr. Bawumia not to be proud of cosmetic macro-economic data that fails to translate into economic well-being. Today, Ghana's public debt has increased from GH¢120.3 billion as of 31st December 2016 to GH¢235 billion as of 31st March 2020".
NDC's darling 'economist' Isaac Adongo, who is MP for Bolgatanga Central, entered the fray and said Ghanaians should stop listening to Dr. Bawumia.
"Throughout his (Dr. Bawumia) statement, he kept saying the data shows, the data shows, and he is unable to point out one single data that shows (something). But the reality is that; is the economy really in intensive care? The answer is yes!
"I want to ask Dr. Bawumia one thing; in saying that John Mahama should look at the data, do you have Covid-19 data? Because John Mahama is saying the economy as a result of Covid-19 is in ICU," he added.
Former NDC MP for Madina, Aljahi Amadu Sorogho also joined his colleagues, saying "Bawumia should tell us what they have done in the past years that they have been in office. All that I can remember them doing is just changing the names of projects undertaken by Mahama."
"It is very obvious that Mahama's infrastructural projects are what the Akufo-Addo government is relying on. This government has not built a single hospital of infrastructure," he said.
However, Spokesperson to the Vice-President Dr. Gideon Boako fired back at the NDC, saying "former President Mahama has made comments which suggest that if he were at the helm of affairs his attitude and approach towards the management of Covid-19 and its associated economic issues, would have been different. And so even though we wish that within this period politics is subdued so we all rally behind the government to finding a lasting solution to this, once you have an opposition leader who has also been there before, raising pertinent issues and sometimes saying things which are a bit untrue then, there is the need to straighten the path and make sure they are put in the right perspective (sic)."
—Daily Guide