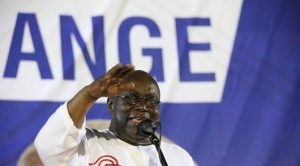 The Western Region can expect to be transformed into an international oil hub if the New Patriotic Party's (NPP) latest promise is anything to go by.
The NPP Flagbearer, Nana Akufo-Addo, assured the people of the region that, if voted into office, his government will develop the region into an oil services hub with a first class port facility. He also said this hub will serve the needs of the West African sub-region.
Speaking during a rally at the Sekondi Methodist Park on Sunday, Nana Akufo-Addo also bemoaned the lack of development of the Western Region, under the John Mahama administration, since the commencement of oil production.
"In the Western Region, God has blessed the people with oil in substantial quantities. If we had a government with vision and good plans for the people, there should have been immense benefit from the oil revenue by now."
"We are coming to change all that. We are going to make the western region an oil hub in the West African sub-region. A regional oil service facility is going to be created here. That is what will bring about jobs in the region," the NPP Flagbearer affirmed.
Ghana discovered oil in commercial quantities along Cape Three Points in the Western Region in 2007.
Production in the Jubilee Field began in 2010, and started with 80,000 barrels of crude oil per day, and has reached a production level of 110.000 barrels per day.
It is expected to peak at 120,000 barrels per day in the years ahead.
But Nana Akufo-Addo contended that, the past five years of oil production should have left the Western Region better of.
"If we in the NPP were in power for the past five years of the oil discovery, the face of the Western Region and indeed the face of Ghana would have changed dramatically. The Western Region and Ghana would have been on an accelerated path of progress and prosperity with the revenues from our oil find," he said.
–
By: Delali Adogla-Bessa/citifmonline.com/Ghana