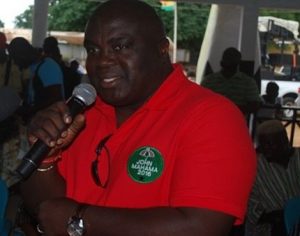 Chief of Staff, Mr. Julius Debrah, says the John Dramani Mahama government has plans of making "Ashanti Region the entrepreneurial paradise of Ghana."
Speaking to a cross -section of journalists in Kumasi recently, Mr. Debrah said that was one of the foremost things the next John Mahama government would do.
The Ashanti Region, he noted, was in the best position to boost entrepreneurship and industrialization, considering the eagerness of the people to explore available opportunities.
Mr. Debrah was addressing the media to herald the beginning of his five-day campaign tour in the region.
According to the chief of staff, people in the Ashanti Region are entrepreneurs by nature and only needed governmental support, which "the NDC government plans to give them in its next term in office.
"Industrialisation can thrive in Ashanti again. If you look at the people in the region, they are by nature entrepreneurs; they have the flair for entrepreneurship.
…from the timber industry to commerce to construction, you will find these people in the Ashanti Region," he said.