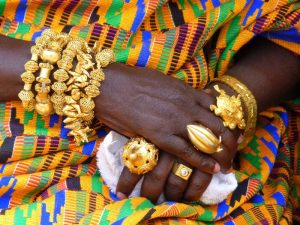 Chief of Kwafokrom in the Ahafo Ano North District of the Ashanti Region, Nana Offei Kwafo I, has decried the lack of social amenities coupled with poor road networks in the area.
As a result of that, he said: "there was no need for us to vote in the upcoming elections."
Nana Kwafo was addressing his subjects during his first anniversary of enstoolment and a fundraising event in aid of a building of teachers' bungalow for the Kwafokrom D /A Basic School.
He was worried that his community had not benefited from the national cake since 1992 when they started voting.
The plight of residents of Kwafokrom is the fact that development has stalled in the area, he lamented.
He mentioned that the road leading to the town has been unmotorable for years, making it difficult for teachers to travel from nearby towns to teach their wards.
Apart from that, he said the town-folks' wish to have teachers' bungalow in Kwafokrom to house all posted teachers has become fruitless.
"Teachers posted to our school always have to travel from Tepa and Maaban to teach, and because the roads are poor, they usually become very tired. How do we expect them to teach our children from their hearts," he noted.
He alleged that the District Chief Executive, Hon. Addai Amankwah, treats them "as if they are not part of the district and shows them no respect."
Head teacher of Kwafokrom D/A School, Nana Owusu Ansah, according to him, had also reported to the District Director of Education about challenges facing the school.
He said the kindergarten and primary departments have been learning in an improvised wooden structure for years.