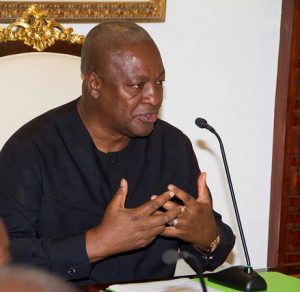 President John Mahama will tomorrow take his turn on the GBC evening encounter program with 20 days to go for the December elections.
It is the maiden evening encounter program to be held by the state broadcaster for presidential candidates contesting the elections.
It comes after a botched attempt by the IEA to organise a presidential debate and evening encounters for the two leading candidates John Mahama of the governing NDC and Nana Akufo-Addo of the opposition New Patriotic Party.
The Independent candidate, Joseph Osei Yeboah has already taken his turn on the GBC Encounter.
Channel Manager for GTV Ebenezer Ampaabeng said the encounter with the president will take a format that will engender interaction between the candidates and representatives of recognized institutions like the Association of Ghana Industries, the Trades Union Congress etc.
"Our conviction is that those who seek to govern us should on their way to the top provide the opportunity for people to interact with them," he indicated.
Providing details of how the program will look like, Mr Ampaabeng said the president will first deliver a policy statement between 20 to 30 minutes before the questions will be allowed from the in-studio guests.
The in-studio guests are strictly by invitation he mentioned but added there will also be question time at a remote location for members of the general public to ask questions through the power of technology.
Mr Ampaabeng assured that the station will not in any way control the questions that will come from the various groups.
When asked if all the presidential candidates have confirmed their participation in the encounter, Mr Ampaabeng said "we are almost there. Almost all of them," have confirmed but won't mention names.
The encounter will be moderated by Selikem Acolatse and Abdul Mumeen and is expected to begin at 9:00 pm.