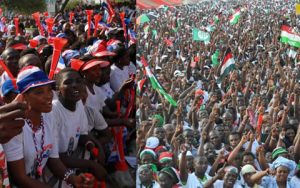 A man of God is urging all political parties not to bank their hopes on fasting and prayers for electoral victory.
Rather, Prophet Nana Addo Adepa said parties especially in opposition should educate the supporters to go out and vote and stay out of trouble.
The Man of God who is the head pastor of the Greatness Palace Chapel made the comment after the opposition New Patriotic Party (NPP) declared a 21-day fasting and prayers for its members across the country ahead of the December 7 general elections.
The programme, dubbed 'The Battle Is The Lord's: Declaration Towards Victory and Peace of Ghana,' would commence with a candlelight vigil and prayer service at the Koforidua Jackson Park in the Eastern Region.
But Prophet Nana Adepa in an interview on Adom News said the fasting will not have any impact if it is not backed by massive electoral education.
He explained that, the only advantage of fasting is for spiritual strength but would not make people to vote or bring peaceful elections.
"Prayer is good; I'm a man of God, I believe in prayer and fasting but Bible say for lack of knowledge me people perish so let's education the people to vote" he added.
Prophet Nana Adepa maintained that the fasting being undertaken by the NPP or any other political party will be useless if we are at loggerheads with each other.