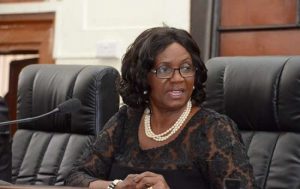 The Chief Justice, Mrs. Justice Georgina Wood, has reiterated the judiciary's commitment to diligently and expeditiously deal with electoral disputes that would arise before, during and after the December polls, to safeguard the country's democratic gains.
According to the Chief Justice, the judiciary, as the true custodian and guardian of the rule of law, was duty bound to guide the country towards a peaceful, orderly and credible elections, adding that it was prepared to adequately meet its constitutional obligation.
The Chief Justice was speaking at the launch of the third edition of the Manual on Election Dispute Adjudication in Ghana, in Accra on Wednesday.
She said the judiciary would jealously and responsibly ensure peace and order in the country, towards sustained socio-economic and political progress.
The Manual, published first in 2008, is made up of relevant constitutional, statutory and case laws governing elections.
The third edition, which comes after the release of the second edition in 2012, according to Mrs. Wood, is made up of concise information on substantive and procedural requirements for the resolution of election disputes.
She said it seeks to bring to the attention of all stakeholders, recent developments and amendments to the election laws through legislative reform.
Mrs Wood said this included the Public Elections Regulations, 2016 (C.I 91 and C.I 94) and recent case law determined by the superior courts in the country before and after the publication of the second edition.
She observed that the third edition would assist the judiciary to deal with electoral disputes, to contribute to the consolidation of constitutional rule in the country.
The Chief Justice disclosed that the Election Task Force Committee of the Judicial Service, would embark on extensive training of all judges and magistrates in trial courts on the manual, to prepare them to expeditiously deal with all election-related disputes, both civil and criminal.
For the avoidance of violence and continuation of the country's democratic journey, she urged aggrieved parties not to resort to unlawful and unconstitutional approaches, and entreated all actors and stakeholders of the electoral process, to acquaint themselves with the contents of the manual.
The British High Commissioner, Jon Benjamin, urged all political actors to promote peace and respect the country's electoral and constitutional processes.
He cautioned against hate speech, which could wipe the country's enviable, open and energetic nature of political campaigns, and urged political parties to hold members who engage in such activities, to account.
The British High Commissioner reiterated the United Kingdom's commitment to offer assistance to the Electoral Commission, the Ghana Police and other agencies to provide a level playing for all candidates