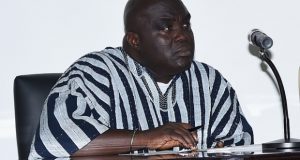 The Chief of Staff, Julius Debrah has advised the youth to be wise and desist from fighting for politicians as the country goes to the polls next month.
He said it is important for Ghanaians to realise that politics is not about who can fight or insult but instead, about development and the welfare of the citizenry.
Speaking to students of the Komfo Anokye Nursing Training College in Kumasi in the Ashanti Region on Wednesday, Mr. Debrah urged the students, some of who heckled him during his speech, to be tolerant and think first about their future before politics.
"Politics is not about insults, neither is it about who can fight. As I stand before you as the Chief of Staff to the President, I do not go to his house and tell him that I want to have breakfast with him because I am his chief of staff; it is same with politics.
If you go and follow any politician who directs you to go and misbehave, who directs you to go and fight someone, and you get hurt, the best thing they will do is to come and visit you on your sick bed."
He added: "I am using this occasion to advise and encourage all of you; we are in the 21st century, life has moved on," Mr Debrah noted.
The Chief of Staff has been on a campaign tour of the Ashanti Region galvanising votes for President John Mahama.
The country goes to the polls on December 7, to elect a president and 257 parliamentarians for the next four years.