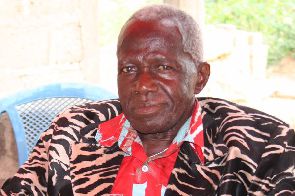 Second wife of the late ace veteran Ghanaian actor Ebenezer Donkor,popularly known as Katawere, Maame Beatrice Boatemaa has passionately revealed that her departed husband died of kidney failure.
Kidney failure, also known as renal failure or renal insufficiency, is a medical condition of impaired kidney function in which the kidneys fails to adequately filter metabolic wastes from the blood.
There are two main conditions of this disease, they are: acute kidney injury, which is often reversible with adequate treatment, and chronic kidney disease, which is often not reversible. In both cases, there is usually an underlying cause.
Soon after the demise of the late seasoned actor was announced, his daughter Diana Donkor disclosed in an interview that her late dad battled an undisclosed illness for the past two years.
But in a one on one interview with Rossy of www.razzonline.com, the second wife of the late actor confirmed that" My late husband underwent urinal operation last year at the Korle Bu Teaching Hospital so he was undergoing medical check-ups every two weeks at Dr.Opoku's hospital at Dansoman before six months ago doctors told me my late husband was battling kidney failure.", She opined.
Katawere died on Monday,13th November,2016 at the Korle Bu Teaching Hospital . His body has since been deposited at the Korle Bu Teaching Hospital morgue.
The late veteran actor who died at the age of 78, was known for the popular 'Efiewura' television series and has starred in several local movies.
https://youtu.be/Udu5i6QfUXk