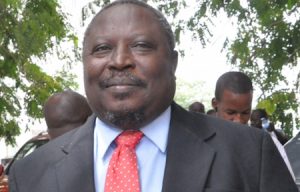 The GHC51 million judgement debt scandal involving NDC financier Alfred Agbesi Woyome has taken a different twist with the supreme court ruling on Wednesday that anti-corruption campaigner, Martin Amidu, can cross-examine Mr Woyome.
The Attorney General's notice to the court last week indicating a suspension of government's attempts to retrieve the monies from Mr. Woyome is what moved an unimpressed Martin Amidu to return to the Supreme Court, which had ordered the retrieval of the money, urging the court to allow him to cross-examine Mr. Woyome in court.
Mr. Amidu had accused the president, John Dramani Mahama of ordering the AG to stop the proceedings in court to retrieve the monies wrongfully paid to the NDC man.
Subsequently, the Supreme Court ruled on Wednesday morning that the two men should face off in court in the case involving alleged fraudulent acts on the part of Mr. Woyome which led the state to make a huge payment of GHC51m to him.
Below if the Supreme Court's full on Martin Amidu's application to cross-examine Mr Alfred Woyome