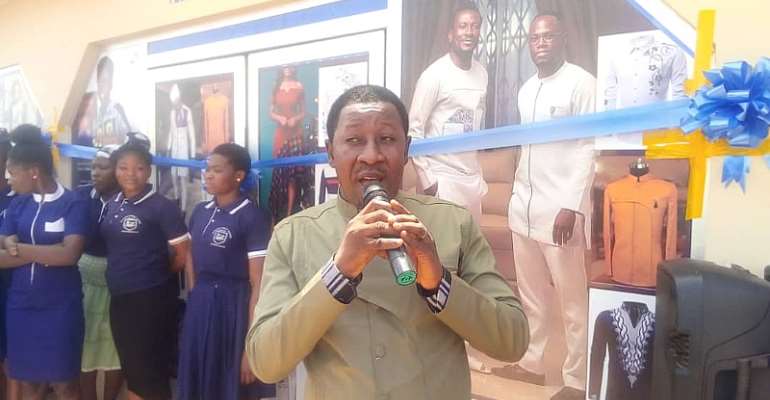 Chief Executive Officer of 'Blossom Street Fashion and Design Center' Pastor O'neil Osei Kwaku has charged fashion designers in Ghana to exhibit dynamism and innovation in the field so as to showcase uniqueness and identity.
The veteran designer indicated that it is important for professional designers as well as upcoming ones not to duel much on imitations or sticking to one style in fashion design but to show creativity and hardworking by going the extra mile in identifying different styles with unique identities and naming them.
The man of God with over 20 trainees mostly females under his care spoke to Cruz News after a short ceremony to unveil a newly acquired working place in Akumadan capital of Offinso North district for his outfit urging all fashion designers to humbly regard themselves as servants to customers and not masters.
He added that one surest way through which one could succeed in the business of fashion is to keep work composure and produce apparel at all times for distributions instead of solely relying on regular customers for business.
Explaining his company's motto, "enthusiastic and optimistic" he said he believes and imparts knowledge to his trainees with the spirit of enthusiasm and truthfulness in line of duty for customers trust and favourite in patronage.
"if you are a fashion designer, adopt the habit of putting out the best at all times and desist from telling lies to customers regarding your duty, don't do today, tomorrow, go and come and that stuff be real and truthful"
According to him, it's about time Ghanaians and Africans as a whole clearly define our unique identity with fashion designs and patronize same to look more distinct from Europeans and Asians whiles projecting our continent
"I think it is not enough for designers to only produce new styles as 'African wears' and that's all. we have to 'name them' so my focus, for now, is to embark on giving names to whatever styles we bring forth with to show this is a Ghanaian handiwork", Pastor Oneil stated.
Narrating his success story in the journey so far, the Blossom Street Fashion and Design boss expressed profound gratitude to the C E O of COTVET Dr. Fred Kyei Asamoah for being instrumental in his career and many others.
"I started professionally in 2009 and due to my hard work, I've been able to train at least 50 apprentices, One man Dr. Fred Kyei who is COTVET AND TVET boss came in and supported me and some others with a free scholarship to acquire the COTVET training to improve ourselves and thereafter furnished us with equipment such as industrial, knitting, embroidery, cutting machines among others to aid us to succeed in the business", he explained
Part of the function to grace the occasion for relocation to the new building were colleague men of God such as Prophet Amos Frimpong True Faith Church International Afrancho, Rev. George Owusu of CAC, Pastor Marfo Isaac Assemblies of God, Rev. Prince Osei from Christ Redeemer Church all in Akumadan, family, and friends amongst others.
—-Cruz Newsroom