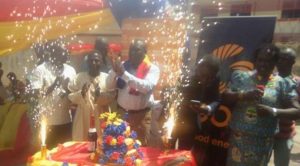 By Dennis Osei Gyamfi, GNA
Accra, Nov. 11, GNA – Accra Hearts of Oak Sport Club Limited, on Friday celebrated 105 years of existence at their Secretariat in Accra.
Being the oldest existing club in Ghana Football and with the number eleven being their favorite number, Hearts Of Oak was mysteriously formed on the eleventh hour of November(11th month) 11, 1911 by eleven people who had eleven series of opening prayers before forming the team.
Speaking at the anniversary, the Acting Managing Director of the Club, Mr Vincent Sowah Odotei acknowledged the founders of the club for their vision of forming the club.
'As we celebrate this great occasion we would like to celebrate the vision of our fore fathers who first conceived the idea of forming this great football club that has grown to become one of the greatest on the African continent,' Mr Odotei-Sowah remarked.
Among the eleven founding fathers of Ghana's oldest club include; Christopher Nettety (leader), Samuel Okraku, J.T.O. Ankrah, J. A. Arhin, Darko Arhin, Bawa Amponsah, Ackom Duncan.
The team has remarkable achievements in their over a century existence becoming first club to win the maiden organized national football league in 1956. The Phobians has won 20 national league titles including winning it for six consecutive and unprecedented times between 1997 and 2002. The Rainbow boys have also won the FA Cup on ten occasions while winning the super cup on 9 occasions.
At the continental level, the team remains the only Ghanaian club have won both CAF organized club competitions winning the CAF Champions league in 2000 which was followed by the 2001 success in the CAF Super Cup against Esperance and Zamelek respectively. The team further made history on the continent in 2004 by becoming the maiden winners of the Confederation Cup completion against their bitterest rivals Asante Kotoko.
Mr. Odotei assured the Phobian fraternity of good things to come ahead of the upcoming season and edge them to be confident in the management team.
'Accra Hearts of Oak I can assure you is in good hands and the future of this club looks great. I can assure you that the coming season will be better than what we experienced last season. As we celebrate our anniversary today we should be guided by experiences of the past so we can achieve greater height in unity,' he added.
GNA