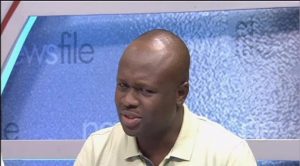 Communications Minister Dr Edward Omane Boamah has called former Attorney-General Martin Amidu 'a damn big liar.'
He dared the Kadema native of Builsa, highly reputed as an anti-corruption crusader, to "come out of whatever hole he is hiding in," to challenge him.
Dr. Omane Boamah was commenting on legal processes filed by Mr. Amidu in Court on Joy FM/MultiTV's news analysis show Newsfile, Saturday, November 12, 2016.
The former A-G is in Supreme Court seeking to be allowed to orally examine National Democratic Congress financier, Alfred Agbesi Woyome on a 51.2 million cedi settlement award he wrongfully obtained from the state.
Attorney-General and Minister of Justice, Marietta Brew Appiah-Opong applied to the Supreme Court to orally examine Woyome to determine how he invested the money which the state wrongfully paid to him in 2010.
She, however, sought to discontinue this line of pursuing the businessman to retrieve the money which the Supreme Court ordered Woyome to return to the state.
Martin Amidu as a private citizen went to Court and obtained that judgment. Since then, the current A-G has been taking steps to retrieve the money – steps Mr. Amidu contends lack commitment.
Believing that the state is not being proactive in retrieving the money partly because of Woyome's ties to the governing party, Martin Amidu went to the Supreme Court asking to be allowed to orally examine Woyome.
He has claimed previously that the current A-G is retreating from orally examining Woyome because the businessman has threatened to mention names of government functionaries and NDC operatives who benefited from the money if he is put in the dock.
This allegation has been refuted by the government as baseless.
But Mr. Amidu in his processes filed before the court listed a number of cases he said the current A-G's firm, Lithur, Brew & Company acted as lawyers for Woyome.
He argues this is proof of previous dealings between the A-G and Mr Woyome and evidence that she cannot be relied on to vigorously pursue the businessman for the money owed the state.
It has turned however that in all three cases, Lithur, Brew & Company represented opponents of Woyome.
Citing this, the Communications Minister said Martin Amidu 'told a big lie'.
Kindly find attached video below.

Story by Ghana | Myjoyonline.com