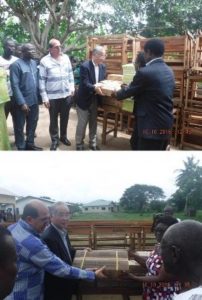 By Morkporkpor Anku, GNA
Accra, Nov. 9, GNA – Forewin Ghana Limited in collaboration with Kawasho JFE Foods Corporation, Tokyo, Japan, producers of the Geisha Brand, as part of its annual corporate social responsibility programme donated items to some schools.
The items include 250 dual-desks, 6,000 Geisha branded notebooks and 100 cartons of the Geisha mackerel.
The beneficiary schools were: Papase Saint Peter and Paul R/C School, AkufoKrodua R/C School and Bawjiase Sutaniya Islamic School, all in the Central Region and the Whindo MA School in Takoradi in the Western Region.
Mr Sam Zacca, the Corporate Affairs Director of the Forewin Group, presenting the items to the schools, underscored the important role education played towards accelerating Ghana's economic growth and development.
He said the donation formed part of the company's social compact to promoting access to quality education in Ghana.
'The world over, no nation has developed without building its human resource base, making huge investment in education is one of the surest ways this can be achieved,' he added.
He, therefore, said management believed undertaken this annual donation exercise was their contribution towards empowering the vulnerable in society through access to quality education.
Mr Zacca cautioned the students to attach all seriousness to their studies, and to make learning their priority to securing for themselves a better future.
Mr Yuji Goto, General Manager at Kawasho JFE Foods Corporation, Tokyo took the opportunity to thank the Ghanaian community for sustaining the Geisha Mackerel Brand in the market.
He said with Geisha products being the market leader in Ghana, his company giving back to the society came in handy.
Miss Margaret Buabeng, Headmistress of Whindo MA School expressed her schools' appreciation and commended the donors for the gesture.
GNA