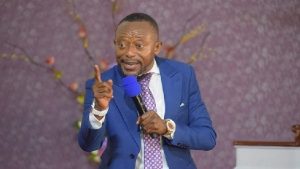 The Founder and Leader of the Glorious Word and Power Ministry International, Reverend Isaac Owusu Bempah has incurred the wrath of the families of the three girls kidnapped in Takoradi after claiming he knows their whereabouts.
They claimed the self-acclaimed nation's prophet has bruised their wounds after the police made a similar comment which turned out to be a fiasco.
Spokesperson for families of the three kidnapped girls, Mr Michael Hayford Grant on Adom FM's morning show, Dwaso Nsem Wednesday said they are pained at the comment.
Rev. Bempah, who claims to know where the girls have been kept, said only President Nana Akufo-Addo could force him to disclose the location.
"I know the whereabouts of the girls. If you dare me, just allow the President to call on me and ask me about their whereabouts and I will gladly tell him," he stated.
The position by the prophet, according to Mr Grant, makes him [Bempa] a self-seeking "nation wrecker".
"At the time we are all grieving, you get a fake prophet like Owusu Bempah make such a lose comment just to get V8 vehicle from the president," he alleged in Twi.
Mr Grant said when he heard the prophet speaking on radio, he felt like slapping him through the radio.
"What will he gain from making such comments which only make the parents of the missing girls anxious? I can't think far," he fumed.