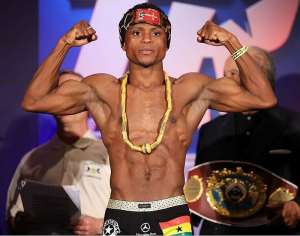 Former Public Relations Officer (PRO) for the Ghana Boxing Authority (GBA), Mohammed Amin Lamptey has disclosed that Isaac Dogbe bouncing back to take back his World Boxing Organisation (WBO) Super Bantamweight title from Emmanuel Navarrete will depend heavily on his team.
The Ghanaian boxer lost his WBO world super bantamweight title on Saturday night, after falling short to Mexico's Emanuel Navarrete after a brutal encounter in New York. The judges for the night scored the bout 116-112, 116-112, 115-113, all in Navarrete's favor.
In an interview with Class FM, Amin Lamptey shared that he is confident the boxer can bounce back. He however insists that the former world champion's team will have a big part to play in that process.
"He is still young. He knows that a lot of things didn't go well. He has learnt his lessons. He has that capacity, he has that capabilities but it depends on the team. How are they going to reshape him? Because after losing, psychologically and mentally he is going to be affected because majority of his fans have been affected", the boxing Judge revealed.
He further commended Isaac Dogbe for having the courage to grant a post bout interview after he had lost his title to Emmanuel Navarrete.
"It is normal, you need to understand that as a sports man you lose, you win or you draw. So I believe that by now he should be able to understand the realities. And I am so excited that even after the fight he granted an interview. A lot of boxers will not have the energy to have the composure to grant the post bout interview", he said.