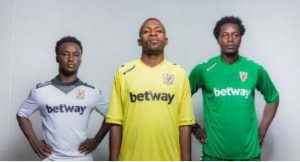 Ashanti Gold FC in partnership with their sponsors Betway unveiled a new Kappa kit for the 2006/07 season.
Ashanti Gold players namely Emmanuel Osei Baffour, Eric Opoku, Tijani Joshua and Robert Dabuo were kit in the new jersey of the Miners bearing the name of Betway their headline sponsors.
Ashanti Gold in October revealed a sponsorship agreement with Betway which will commence in the upcoming Ghana Premier League season.
However, the amount involved in the deal hasn't yet been disclosed by either party.
Betway sponsor a number of clubs, notable among them is West Ham.