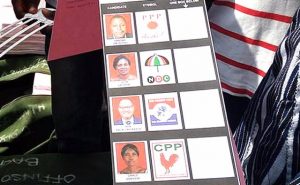 The Ashanti Regional Deputy Organiser of the New Patriotic Party (NPP) Daniel Agyemin Boateng, has lashed out at the Chairman of the National Peace Council Prof. Rev Emmanuel Asante for turning a deaf ear on the errors committed by the Electoral Commission (EC) on printed ballot papers.
He wondered what has led to the indifferent attitude exhibited by the Chairman of Peace Council on the issue adding that God will judge everyone according to his/her deeds.
According to him, for peace's sake, Prof Asante should be mediating between NPP and EC over the errors on the ballot designs.
'The Chairman of Peace Council Prof. Emmanuel Asante is deaf and dumb now, why is he tight-lipped?, he has not seen or heard what is going on, whatever we are doing God is watching all of us, those who are lying and deceiving people should be careful especially men of God,' he fumed.
Speaking with host of Abusua Nkommo on Abusua FM Kwame Adinkrah, he claims the Chairperson of the EC Mrs Charlotte Osei is not up to the task indicating that she erred in the print-out of the parliamentary ballot papers.
The Ashanti regional office of NPP has been crying foul over what they described as an error committed by the EC on the ballot paper saying their initials at the bottom were missing.
He denied that their party members were present at the printing house.
'Our initials (NPP) were missing at the bottom of the logo (elephant) as compared to the other parties, the EC erred on the statement of pull. Our motto is different from our initials. We cannot go on deceiving the public, no party member was present at the printing house, they admitted the mistake when we drew their attention but we are surprised the EC has turned round to deny.
EC should come out and tell us which one we agreed on, can the EC tell us the date and time that our initials was not under the logo. Our emblem/logo is the elephant if the EC rectify the error, we will be happy, but if it refuses to change it fine,' he explained.
Mr Boateng indicated that they are extra vigilant now and will not allow the EC to twist their arms in favour of the National Democratic Congress (NDC).
'We are wide awake now, they have been caught pants down, we will not allow anybody to twist our arms by rigging this year's elections,' he stated.