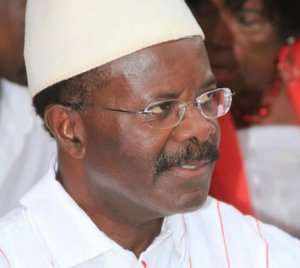 The Flagbearer of the Progressive People's Party Dr. Papa Kwesi Nduom has condemned politicians in the country for doing politics in the midst of the global pandemic.
According to the flagbearer who is stacked in the United States following the closure of Ghana's borders everyone should put politics aside to embrace the overall good of the nation.
"For our survival as a nation, it is imperative to put aside the political considerations of just three months ago so that we fashion a new economic and social order. We have no choice." He said.
He further cautioned Ghanaians about the necessity of togetherness in the country as it battles against the Coronavirus saying:
"The downfall of anyone should become a cause for worry for all. That is the essence of inclusiveness."
He also lamented about his inability to join his alma matter to commensurate their 90 years Anniversary but expressed hope to be back as soon as the doors are opened.
"COVID-19 prevented me from traveling to Ghana to observe the 90th Anniversary of St. Augustine's College, Cape Coast. I take from our motto "Omnia Vincit Labor" the need to persevere in order to triumph over this pandemic.
"So I remain in the USA perhaps until July or whenever it will be safe to travel more than ten hours with hundreds of other people I don't know to see the shores of Ghana again. "
The former Energy Minister during the erstwhile J. A Kuffour administration commended businesses in the country for their innovations during these hard times.
"Ghanaians have a new reality, something not really new, self reliance. I am tempted to write that the indigenous people, companies, entrepreneurs are ready to move. What we have within our boundaries is all we have.
"We should encourage the best in everyone and the necessity of our present reality will bring about many inventions." He noted.
The comments of the flagbearer of PPP come off following Dr. Mahamud Bawumia's reply to Ex-President John Dramani Mahama about the management of the global pandemic.
However, Dr. Paa Kwesi Nduom has advised the two major political parties to stay away from such political discourse as that would undermine the efforts of the nation to build a resilient antidote against a virus that has killed 18 people in the country.
"A Better Ghana", "Ghana Beyond Aid", "Prosperity in Peace". Does it matter which political party mouthed them first? NDC, NPP, PPP? Not when our very existence as a nation is at stake.
In reality, asking who is better (worse) than someone else should be condemned. We must use the best of everyone because every citizen has some problem of some sort somewhere.