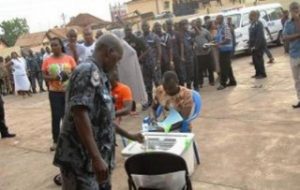 Security officers, who did not find their names in the voters' register on the second day of Special Voting at Tamale Central, have threatened to stop the Electoral Commission, Ghana (EC) from going ahead with the exercise if their names are not found.
They claim the EC has failed in organizing the exercise and suspect sabotage from the elections management body.
Sunday's extension was agreed by all political parties at an emergency Inter-Party Advisory Committee (IPAC) meeting as a result of numerous cases of missing names on the first day on Thursday, December 1.
But the situation seems not to have been solved as many centers have reported cases of names missing again.
At the Tamale Central Constituency in the Northern Region, the officers, who feared being disenfranchised, gave the electoral officers 10 minutes to produce their names, failure of which they would stop them from going ahead with the exercise.
About 400 officers are expected to be part of Sunday's Special Voting at the constituency, TV3's Zubaida Ismail reports, but only one person has been able to vote so far (one hour into the exercise).
The Northern Regional Police Commander, Ken Yeboah, was at the center to ascertain the situation for himself. The officers, despite their threats, were still not allowed to vote.
In the Brong Ahafo Region, precisely at the Sunyani Liberation Barracks, officers – who also could not find their names – have threatened to defy their superiors with respect to their deployment for the general exercise on Wednesday.
They have vowed to be part of the voting exercise on Wednesday if their names are not found by the closure of polls on