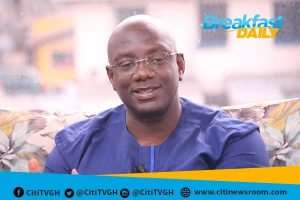 A member of the New Patriotic Party's Communications Team, Eric Twum, has described Former President Mahama 's campaign to lead the National Democratic Congress (NDC) as an "ego massaging exercise".
According to him, John Mahama is trying to make Ghanaians believe that he is extremely important to the country.
Former President Mahama has officially launched his campaign in the Central Region in his bid to lead the NDC and subsequently contest the 2020 elections.
But, Eric Twum emphasized that the track record of the Former President is in the open for the Ghanaian people to make their decisions.
"Personally, I am indifferent. I don't know what exactly [he wants] the former President. He has had the opportunity as Vice President and he became President. His performance and the things he has done are there for everybody to see."
"So for me, I call it an ego massaging exercise and unfortunately he's been able to drag his compatriots along for a personal and ego journey."
I owe God and country a duty to bring back NDC – Mahama
Former President John Dramani Mahama has indicated that he owes God and the good people of Ghana the greatest responsibility of recapturing power from the governing New Patriotic Party (NPP).
"I believe I owe a duty to God and my country to take our great party back into Government to right the wrongs of the past, and to put an end to the cries of the people under the current dispensation."
"The 2020 election presents our party, the NDC with a great opportunity to offer yet again, visionary leadership driven by a commitment to create opportunities for all our people not just a few."
'Mahama may not be able to run for president' – Ken Kuranchi
The Editor of the Daily Searchlight Newspaper, Ken Kuranchi, is of the view that former President John Dramani Mahama may not be able to contest again as President or flagbearer.
He stated that according to Article 68 Clause 2 of the constitution, former presidents are not supposed to engage in any activities that provide profit or emolument.
"When it comes to former Presidents, there are limits as to how far he [John Mahama] can go," Mr. Kuranchi said.
He also indicated that the flagbearer position would provide him a money making avenue.
"Doing politics costs a lot of money… When you engage in political activity, you raise money. John Mahama will need to raise money. He will need to spend money," Mr. Kuranchi argued further.
In his view, Mr. Mahama was firmly under the laws of Ghana and further scrutiny of the limits of the law was needed.