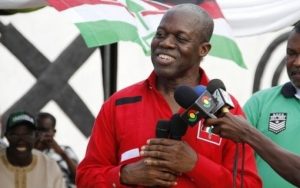 Vice President Kwesi Bekoe Amissah-Arthur has said, the massive development of infrastructure by the NDC government is not an election gimmick but something it would continue doing for society to progress.
He said the NDC has always been an advocate of putting people first and would not wait for election to provide the needed infrastructure, especially in the area of education and health.
The Vice President made this known when he commissioned a 500 bed girls dormitory for the JiniJini Senior High School in the Brong Ahafo region.
He explained that , putting people first, is about developing a sound mind and healthy body, hence the continued investment in education and health among many other sector of the economy.
"Putting people first is about a sound mind and healthy body, so for us, building schools, dormitories, and assembly halls among others is not election gimmick but something we want to do. So whether there is election or not, we are building the schools and other facilities," he said.
Mr Amissah-Arthur said, providing such resources would help consolidate the future and the Mahama led administration is committed to that.
The headmistress of Jinijini Senior High School, Mrs Alice Nketia commended government for developing infrastructure on the school campus.