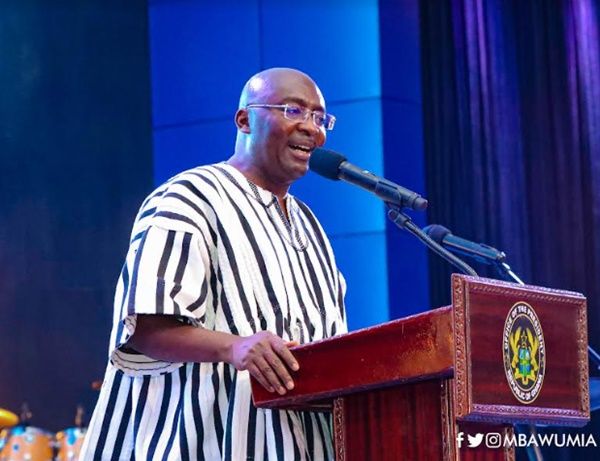 Delegates in the Ashanti Region appear to have designed a new slogan called Bawumia Must Win (BMW) coined by Bernard Antwi Bosiako, commonly called Chairman Wontumi, the Ashanti Regional Chairman of the ruling New Patriotic Party (NPP).

This new slogan appears to be taking over the elephant fraternity in the region as delegates look forward to giving the Vice President, Dr. Mahamudu Bawumia the nod to lead the party into the 2024 general elections as a flagbearer, if report available is true.

At a recently held programme organised by Chairman Wontumi aimed to unveil a group aligned to Dr. Bawumia aimed at canvassing votes for the Vice President, delegates of the party including some Members of Parliament (MPs), Regional and Constituency executives could be heard taking their turns loudly to chant the slogan.

A video sighted by DGN Online showed that each time Chairman Wontumi moved to any table at the meeting comes with a loud response whenever he chanted the slogan BMW.

This appears to have given much hope to the Vice President and supporters of the party in the Ashanti Region that the Vice President is most likely to take over from President Nana Addo Dankwa Akufo-Addo.

Currently, three party gurus from the NPP are dominating the scene in their urge to become the next president after Nana Addo Dankwa Akufo-Addo.

The three front runners are Vice President Dr Mahamudu Bawumia, Alan Kwadwo Kyeramaten, Minister of Trade and Industry and Kennedy Ohene Agyapong, the MP of Assin North Central with the rest adding to the numbers.

The Ashanti Regional Chairman for the NPP has formally endorsed the current Vice President in his presidential bid.

President Akufo-Addo is not seeking re-election following constitutional barrier.

As a result, a new presidential candidate must be elected from the elephant Party to contest in the 2024 general elections.

At the event, where Chairman Wontumi was seen addressing a group of people in a short video circulating on social media, he openly speaks about his favourite among the three gurus who wish to emerge as the Presidential Candidate for the NPP towards election 2024.

According to him, Dr Bawumia must go and he must go as the presidential candidate of the NPP who will be in a better position to help the party to break the 8 in 2024 elections.

The 2024 elections is going to be tough and there is a need to provide a competent candidate who will be able to compete and overcome all other candidates from the various opposition parties especially the biggest opposition party, National Democratic Congress (NDC).

In the view of Chairman Wontumi, Dr. Bawumia is the best candidate to help NPP to retain the presidential seat in 2024.

He has vowed that he will embark on massive campaign to pave way for Dr Bawumia in 2024.
Source: dailyguidenetwork.com