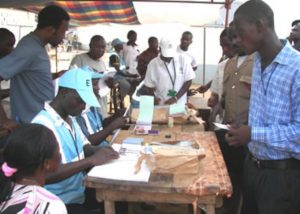 The Electoral Commission (EC) of Ghana has announced that 92,231 out of the 126,875 Special Voters were able to cast their ballots last Thursday December 1, 2016 at the various polling stations across the country.
The processes were characterized missing names of security personnel, EC officials, party agents and the media but the EC indicates that the figure that turned up represents 72.69 percentage of total turn out.
A statement issued by Mr Eric Kofi Fleming Dzakpasu, the EC Head of Communications, gave the regional breakdown of special voters as follow; Ashanti; 15,474 out of 19,710, representing 78.51, Greater Accra; 16,474 out of 25,273, represents 65.18 per cent; Volta; 9,672 out of 14,485, representing 66.77 per cent, Central; 7,451 71.93 out 10,358, representing 72.93 per cent, and Western; 4,747 out of 7,016, representing 67.66 per cent.
The rest are Eastern; 9,286 out of 12,995, which is 71.46 per cent, Brong Ahafo; 10,721 out of 13,716, representing 78.16 per cent, Northern; 10,245 out of 13,134, representing 78 per cent, Upper East; 6,327 out of 7,254, representing 87.20 per cent and Upper West; 1,828 out of 2,934, representing 62.30 per cent.
"We wish to emphasize that the above figures are provisional at this stage"
#Election2016 SPECIAL VOTING TURNOUT FIGURES pic.twitter.com/kJ3y0Gb3Kd — Electoral Commission (@ECGhanaOfficial) December 3, 2016