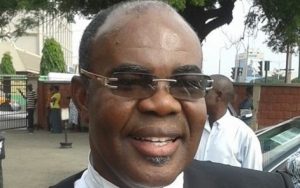 Former Attorney General under the Kufuor Administration, Joseph Nii Ayikoi Otoo has indicated that the latest verdict of the Court of Appeal which acquitted the former GNPC Boss, Tsatsu Tsikata for willfully causing financial loss to the state does not in any way exonerate him from wrongdoing.
According to Ayikoi Otoo, the judgment of the Appeals Court explored technicalities in the law to drop the accusations without necessarily determining whether Tsatsu Tsikata was right or wrong in the matter.
"As far as I am concerned it is a very critical narrow matter. No one has said he did nothing wrong. What they are saying is that he was not given the opportunity to call the witness that he wanted to call and it was nobody's fault. He kept calling the people who did not want to come so where are the facts that he has been proven not guilty.
"As to the facts of the case, whether he did the proper thing or not I don't think the judges spoke about it. If this all that the judge said my understanding is that it is a very technical, narrow issue."
The decision of the Appeals Court last Wednesday held that the judgment of the High Court was a miscarriage of justice, because it did not give Mr. Tsikata a fair opportunity to defend himself.
The Court further went ahead to acquit and discharge Tsatsu Tsikata of all charges brought against him.
Mr. Tsikata in June 2016, went to the Court of Appeal to challenge the decision of the High Court.
In his appeal, Mr. Tsikata stated that, the verdict that led to his imprisonment was unreasonable and was not supported by evidence.
He also added that, the judge erred in law in deciding that financial loss had been caused simply because payment of monies had been made by the GNPC.
Background
Tsatsu Tsikata was jailed for five years on June 18, 2008, by the Accra Fast Track High Court for causing financial loss to the state through a loan that the GNPC guaranteed for Valley Farms, a private cocoa-growing company.
He was found guilty on three counts of willfully causing financial loss of GH¢230,000 to the state, and another count of misapplying public property.
His trial started in 2002 under the then Kufuor administration, and travelled back and forth the court until he was sentenced, which generated a lot of controversy.
Valley Farms contracted the loan from Caisse Francaise de Development in 1991, but defaulted in the payment, and the GNPC, which acted as the guarantor, was compelled to pay it in 1996.
Mr. Tsatsu Tsikata was unconditionally pardoned by former President J.A. Kufuor on his last day in office, but he rejected the pardon and insisted that he would continue to pursue justice in the court of law, although he left the prison since his health was failing.