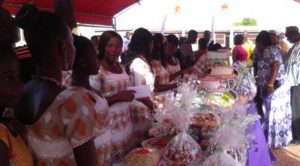 By Comfort Sena Fetrie, GNA
Tamale, Nov. 9, GNA – Twelve students from Community Development Vocational Training Institute in Tamale have graduated with self-employable skills.
The event was on the theme: 'Eradicating poverty by empowering the youth with employable skills to be self-reliant.'
Mrs Agnes Adagblenyah, the Principal of the Community Development Vocational Training Institute in an interview with Ghana News Agency said some of the challenges the school was facing include inadequate teaching and learning aids and the decline of academic activities due to lack of a fence wall.
She therefore urged stakeholders to support the School to address these challenges.
She also advised the graduates to put into practice all what they have learnt by establishing small businesses to support themselves.
Mrs Adagblenyah indicated that the public school was establish in October 4, 1966 by the Department of Community Development under the auspices of the Ministry of Local Government and Rural Development to cater for the Vocational and Technical needs of young girls and boys.
GNA