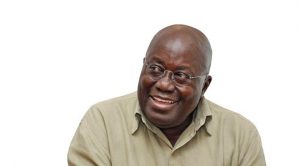 There is a spirited but subtle attempt to discredit the prestigious Mother Teresa Memorial International Award for Social Justice given to New Patriotic Party (NPP) flagbearer Nana Addo Dankwa Akufo-Addo in Mumbai, India recently.
The organizers are being inundated with e-mails from Ghana, enquiring about the authenticity of the award for political purposes.
It is not clear who are behind the plot but the organizers have expressed shock about the development since they have never witnessed this in the history of the awards.
The award organizers, Harmony Foundation, are said to have received two emails with virtually the same content requesting to know whether Nana Akufo-Addo was only a speaker or award recipient at the just-ended event.
The first email came through from the Indian High Commission in Accra followed by another one from one Frank Desmond who claims to be Ghanaian.
Curiously, the sender signed off with Frank Desmond. He had the domain name Frank Adjornor with senufranie@gmail.com as his email.
Nana Akufo-Addo was not in Mumbai, India for the coveted awards ceremony due to his busy schedule ahead of the December 7 general elections.
He was represented by former minister Hackman Owusu-Agyeman, Prof Mike Ocquaye and others.
Apart from receiving the award, Nana Akufo-Addo, was also the main speaker and delivered a keynote address on the theme, 'Combating Terror through Education and Peace,' through Mr. Owusu-Agyeman.
The award is given to people all over the world who distinguished themselves in the area of democracy, human rights and social justice.
It's coming at a time when the NDC and its leadership are trying to paint him black with spurious allegation of violence.
Dr. Abraham Mathai, President of the Harmony Foundation, explaining the decision to choose Nana Akufo-Addo for the award, said "the manner in which you (Nana Akufo-Addo) sacrificed your presidential ambitions by accepting to preserve peace in the West African nation of Ghana at a time of high tension, thereby preventing civil war is truly remarkable."
He said that "your statesman-like qualities have truly distinguished you as the defender of democracy which should be emulated far and beyond."
By William Yaw Owusu