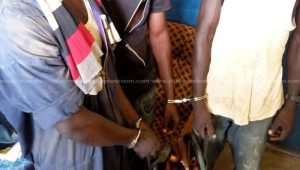 Twelve(12) persons have been arrested by police in the Eastern Region for allegedly engaging in cybercrime activities.
The 12 suspects, all Nigerians, were picked up on February 10, 2019, by a night police patrol team in a room at Nsawam where they were operating.
Ten laptops, a number of mobile phones, wifi routers, USB drives among others were retrieved by the police in the raid.
Confirming the arrest to Citi News, the Eastern Regional Police Public Relations Officer, DSP Ebenezer Tetteh, said the suspects have all been detained and will be screened to assist police in their investigations.
They have been identified as Affamey Godstime, aged 23; Sunday Mawis, aged 21; Paul Mark, aged 24; Francis Owen, aged 27; David Orobose, aged 18; Irobor Gershon, aged 26; Felix Omoregbe, aged 28; Courage Mathew, aged 24; Hussein Abdullai, aged 24; Olojon Promise, aged 20; Cyril Joe, aged 21 and Victor Berry, aged 23.
"According to preliminary investigations, the suspects who were spotted had all gathered in one room operating on their laptops and were suspected to be engaging in cybercrime. So the night patrol team quickly strategized and went in to raid the place."
DSP Ebenezer Tetteh added that the suspects have been detained to be screened as investigations continue.
Source: Citinrewsroom.com | Ghana