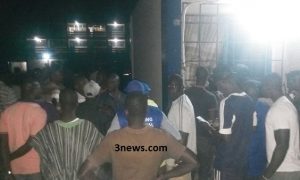 Scores of New Patriotic Party supporters have assembled at the Upper East Regional Police Headquarters in Bolgatanga to keep watch and protect ballot boxes and electoral materials used for Thursday's special voting exercise.
The room, within the Police headquarters building where the ballot boxes and the electoral materials for Bolga Central are being kept, have some defects which the supporters say could compromise the integrity of the cast ballots.
They have thus vowed to keep vigil at the premises to protect the ballot until the Police Command and the Electoral Commission officials find alternative safe place to keep the electoral material.
According to the NPP, the window behind the room in which the ballot boxes with the cast ballots were kept, has a sliding glass that can easily be opened, noting that the burglar proof railings protecting the windows also have big spaces in between them.
That, they explain, exposes the ballot boxes to security breach, TV3's Tanko Mohammed Rabiu reported, adding " It's a glass slide window with burglar proof which is too wide.
A five-year-old boy can go inside. When you're standing outside you can see the ballot boxes when u slide the window". "They kept the ballot boxes inside a room that the police described as a safe room but we noticed that the window is just opened completely," the party's Regional Director of Communications, Ahmed Bediako told TV3.
He added: "The Police and the Electoral officials agreed with us that there is a security flaw and that it should be addressed.So we are waiting here; we are waiting to see how the Electoral Commission and the Police are going to address the issue".
Mr Bediako said the party members say unless a solution is found to it, not a single member of the NPP will leave the Police Headquarters. "We are all going to be here until a solution is found because we have gotten to a point where we cannot say this is Police; we trust the Police institution but regarding the election, no one should convince us that the Police will be able to do a better job by protecting the ballot. We want to protect it ourselves," he told Tanko.
"Unless a safe place is found for the ballot boxes and the ballot papers to be kept. When we are satisfied that nothing untoward will happen to it we will leave. We are demanding for the right thing to happen," Mr Ahmed vowed.