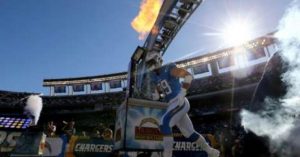 Voters in San Diego gave a resounding thumbs down to a measure that would have raised hotel taxes to pay for a new stadium to keep the NFL's Chargers in town.
The measure came up well short of the two-thirds vote required, with the San Diego Union-Tribune reckoning it was supported by less than 50 percent of voters.
Critics of the measure, which the Chargers spent millions of dollars promoting, had argued that it underestimated construction costs on the proposed stadium and convention facility, to be built near the Petco Park ground of Major League Baseball's San Diego Padres.
The Chargers have been working for more than a decade to get a new stadium project launched in San Diego.
With hopes for a deal dwindling, the NFL last year granted them the option of joining the newly relocated Rams in Los Angeles, sharing the state-of-the-art facility being built there.
The Chargers have until January 15 to decide if they want to move north to Los Angeles. Should they opt against such a move, the Oakland Raiders would have the option of joining the Rams in LA, although the Raiders are currently being wooed by Las Vegas.
Chargers chairman Dean Spanos said in a statement on the team's website that no hasty decision would be made.
"In terms of what comes next for the Chargers, it's just too early to give you an answer," Spanos said. "We are going to diligently explore and weigh our options, and do what is needed to maintain our options, but no decision will be announced until after the football season concludes and no decision will be made in haste."
For more sports news visit allSports.com.gh