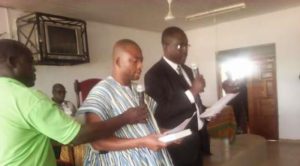 By Samuel Akapule, GNA
Talensi (UE), Nov. 13, GNA – The Assembly members of the Talensi District Assembly, have been commended for endorsing the President's nominee, Mr Edward Awunore as the District Chief Executive (DCE) for Talensi District.
The incumbent DCE, who was re-nominated by the President after his four year tenure of office, polled 31 out of the 32 votes cast to secure 93.5 per cent of the elections.
A Member of the Council of State, Reverend Dr Jacob Kofi Ayeebo, who made the commendation, said the votes obtained was very historical in the endorsement of the President nominee for DCEs in the Upper East Region
He said the maturity demonstrated by the Assembly Members during the exercise indicated that they were united and placed development above partisan politics.
'This is a greater lesson for the rest of the Assembly members in the Region and beyond to learn. In politics development is very key and we must not allow partisanship to overshadow our developmental needs,' he said.
He cautioned the DCE to be opened to all dissenting views and opinions and avoid the divide and the rule tactics, saying the overwhelming endorsement by the House was an indication he would get the needed support.
He asked Mr Awunore not to abuse the confidence the President and the House had bestowed on him but rather work hard to justify it.
Mr Benedict B. Yindow, the Presiding Member of the Assembly, called on the Regional Minister, Mr Albert Abongo to support the area with development projects since it had justified that it was one of the peaceful and democratic areas.
The Regional Minister who expressed happiness about the way and the manner the elections was executed, urged the Assembly members to continue to demonstrate maturity in their decision-making process.
Mr Awunore thanked the Assembly members for the confidence reposed in him and promised to operate an open door policy.
He called on the members not to hesitate to consult him pertaining the development of the District.
GNA