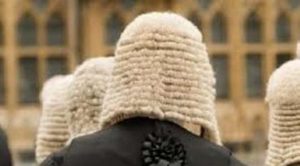 By Joyce Danso, GNA
Accra, Nov. 11, GNA – Judges and Magistrates have served notice to withdraw their services beginning November 21 if issues bordering on their 10 per cent adjustment of salaries are not addressed.
In a letter notifying the Chief Justice and copied to the Chief of Staff, Ministry of Finance, the Judicial Secretary and the Labour Commission, members of the lower bench said the 10 per cent salary adjustment needs to be paid.
The letter signed by Mr Aboagye Tandoh, a representative of the Lower bench, a copy of which Ghana News Agency has cited said on August 18, 2016 a letter from the Judicial Service addressed to the Minister of Finance, requesting that their salaries be adjusted to correspond with their condition service, has not 'received any attention'.
'We humbly bring this to your attention because the undue delay has created anxiety and frustration among members of the lower bench.
'This is particularly so because implementation of the condition of service of the lower bench has been characterised with frequent interruption and disruption since 2013.
We have also observed that this disruption and interference with our condition of service has occurred as a result of the erroneous manner in which the concerns of other institutions have been addressed even though these matters are not related to Judges and Magistrates of the lower bench.
'We wish to re-iterate that our condition of service as approved by the late President Mills has never been a mistake but the mistake being alleged is a creation of people whose sole interest is to interfere with the condition of service of Judges and Magistrates,' the letter said.
The Judges and Magistrate said they have always appreciated the efforts of the Judicial Council and the Association of Judges and Magistrates insisting that their condition of service as approved need not to be disturbed.
'It is our hope that steps would be taken to avert any disruption in our work,' the letter stated.
GNA