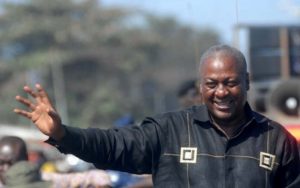 Nandom Naa Dr. Puo-ire Poubi Chiir VII has sent strong indications that he won't stop endorsing the second term bid of the John Dramani Mahama led National Democratic Congress (NDC) administration.
Speaking during a courtesy call on him by President Mahama, he said though the media took him on for endorsing the president, he will continue to endorse him.
Naa Dr. Chiir VII said," when I said President will win for his second term, the media took me on for endorsing him. But for me I don't care. He is doing well so he needs to go for a second term to continue his good works."
He went on to say, " for his good works a street has been named after him in Nandom."
This is the second time this year, the Nandom Naa has endorsed the president publicly.
Naa Dr. Chiir VII endorsed the president during the accounting to the peoples' tour earlier this year and this created an uproar in the region with some persons accusing him for meddling in politics.
However he's not perturbed and believes the president will win the elections scheduled for 7th December this year.