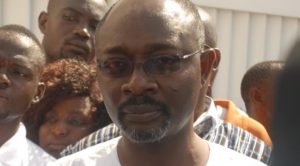 Businessman Alfred Agbesi Woyome, has stated that he disagrees with the Supreme Court's decision to allow former Attorney General, Martin Amidu, to orally examine him in court.
The court in its ruling on Wednesday, upheld Mr. Amidu's application to give him the chance to examine the business in the controversial GHc51 million judgment debt case.
According to the ruling by justice Anin Yeboah, the applicant has the right to do that because he personally came to court to get a judgment to have Mr. Woyome pay back the GHc51 million cash he received.
But Mr. Woyome while speaking in a Facebook live video with the Daily Graphic, said "I disagree totally with today's ruling."
"Martin [Amidu] could go ahead if he has the legal strength to tell the whole public as to what he knew as an attorney general working with EOCO; how those monies were expended. But for the sake of the law, and for the sake of the constitution of the republic of Ghana, I disagree totally with today's ruling and I will do whatever I can to see to it that justice is done in this case."
Though Woyome said he would respect the court's decision, he lamented that, the impact of the case will be felt on the international scene because there are a number of cases on the same matter pending in court.
"I am committed with my agreement with the AG department to continue respecting the ruling of the Supreme Court although I disagree with it. This very judgment has created a big problem internationally. I will also not go on that because there are other pending cases internationally on this case," he added.
Supreme Court is persecuting me – Woyome 'cries'
The embattled businessman, also accused Ghana's Supreme Court of persecuting him in its handling of the case.
Background
Alfred Woyome was paid ¢51 million after he claimed that he helped Ghana to raise funds to construct stadia for purposes of hosting the CAN 2008 Nations Cup.
However an Auditor General's report released in 2010, said the amount was paid illegally to the National Democratic Congress (NDC) financier.
The Supreme Court in 2014 ordered Mr. Woyome to pay back the amount, after Mr. Martin Amidu challenged the legality of the judgment debt paid the businessman, Waterville, and Isofoton.
Following delays in retrieving the money, the Supreme Court judges unanimously granted the Attorney-General clearance to execute the court's judgment ordering Mr. Woyome to refund the cash to the state.
Woyome prevents officials from valuing properties
Mr. Woyome in April 2016, prevented officials of the Attorney General's Department and the Lands Commission from having access to his Kpehe residence for valuation.
The move was part of a directive from the Supreme Court to retrieve monies illegally paid to him. But Woyome resisted the move, saying the planned valuation was illegal.
Mr. Woyome had earlier won the criminal prosecution that sought to imprison him for the offence.
–
By: Godwin A. Allotey/citifmonline.com/Ghana
Follow @AlloteyGodwin
https://youtu.be/YOyk8gfoTF4