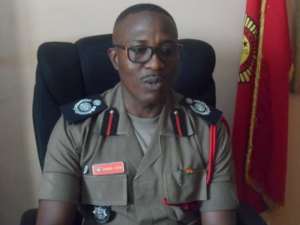 Ghana National Fire Service (GNFS) has appealed to the general public to promptly alert the Service on its emergency numbers whenever the need arises to save lives and properties.
As the harmattan season approaches, the GNFS affirms its readiness to respond to 24-hour telephone calls and proactively, without obstruction, attend to fire incidents and advised the public to call on its emergencies lines -192 and 0352027129.
Disaster nearly occurred at an Excel fuel filing station in the Techiman Municipality, when a petrol tanker parked near the station kept emitting fire sparks on Tuesday, November 13.
No casualty was recorded during the incident, which occurred around 1600 hours, as residents around the facility and pedestrians fled for their lives.
The cause of the fire is under investigation, Assistant Chief Fire Officer (ACFO) James Owusu-Agyei, the Brong-Ahafo Regional Fire Commander, told journalists on Tuesday in Sunyani.
He expressed worry that a video of the incident which had gone viral on the social media was misinforming the public because 'the video did not paint a true picture of the incident'.
He said the alleged video is condemning the GNFS for delay in attending to the incident but 'that is untrue since we got to the scene between 19 to 21 minutes after we had a call about the incident'.
That was because the Wenchi and Nkoranza Municipal Fire Command had to be called by his outfit to help save the situation as the fire tender at Techiman had been grounded for some time, ACFO Owusu-Agyei said.
The Regional Fire Commander affirmed the Service's readiness to attend to fire and related disasters to save lives and properties and urged the general public to alert the Service whenever an emergency occurs.
Source: GNA