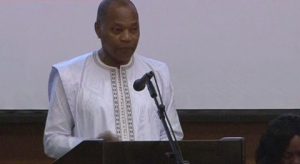 UN Secretary General Special Representative for West Africa, Dr. Mohamed Ibn Chambas has admonished security personnel in the country to exhibit professionalism in the discharge of their duties to ensure peace before, during and after elections.
All seven candidates in the Presidential race earlier today signed the Accra Declaration, pledging their commitment to ensuring peace in the elections at an event organized by the Electoral Commission in partnership with the National Peace Council and the National House of Chiefs.
The UN Special Representative West Africa who graced the event charged all major stakeholders to play their roles in pursuing the course for a fair and peaceful electoral process.
According to him, it is the shared responsibility of all stakeholders in Ghana's democracy to safeguard the peace of the country but especially entreated state security persons especially the police force to guard against inciting any acts of violence
He lauded the Electoral Commission and the National peace Council for the good work done in preparations towards the December 7 elections.