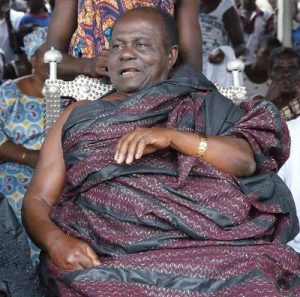 The paramount Chief of the Denkyira Traditional Area, Odeefuo Boa-Amponsem III has died, abusuafmonline.com can report.
The chief who reigned for 61 years from 1955-2016 died at age 94 after a period of ill health .
Odeefuo Boa-Amponsem III ascended the throne at age 33 and his reign saw massive development and successful wars of conquest.
He is also noted for his bravery especially in bringing the paramountcy stool from Jukwa in the Hemang Lower Denkyira area to the Upper Denkyira area specifically at Dunkwa-On Offin after the abdication of the the stool by Owusu Bori II, his predecessor in 1953.
Starr News' Central regional correspondent Kwaku Baah-Acheamfour who visited the palace reports his death was confirmed this morning during the meeting of the Denkyira chiefs at Dunkwa-On Offin in the Central region.