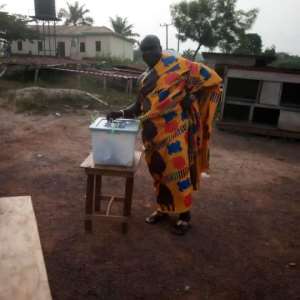 Desire by the indigenes of Ahafo to get a separate Ahafo Region from the current Brong-Ahafo Region did not imply a feud between the Ahafos and the Brongs but basically for the purpose of development.
Nana Agyei Twum II, the Chief of Wamahinso and President of the Ahafo North Divisional Council, emphasised in an interview with the Ghana News Agency (GNA) on Wednesday at Wamahinso in the Asutifi North District of Brong-Ahafo.
He explained that fundamentally and essentially 'the petition for the Ahafo Region is to ensure the rapid and holistic progress of the area and that can only be achieved if we get our fair share of the national cake'.
Nana Twum stressed that 'Ahafo is set for the region' and affirmed that besides attending to any form of nature's, the major and only activity of all residents and indigenes of Ahafo on Thursday, December 27 'is about voting yes in the referendum slated for that day'.
In another interview, Barima Twereku Ampem III, the Paramount Chief of Ntotroso Traditional Area, also in the Asutifi North added that Brong-Ahafo is very large and that was affecting equitable development of some areas in the Region because of the seemingly lopsided distribution of development projects.
Hence, the creation of two additional regions (Ahafo and Brong East) would make the management of the regions easier and consequently bring about accelerated socio-economic development.
Nana Antwi Kesse Basahyia, the Nifahene of Achirensua Traditional Area in the Asutifi South District, commended President Nana Addo Dankwa Akufo-Addo for making the creation of the Ahafo Region a reality.
He said it would bring 'massive development' since the area lacked behind in the provision of social amenities, citing poor road network, unavailable major health facility among others.
Nana Basahyia expressed the hope that the creation of the region would therefore open up the area for speedy socio-economic development as regional commands of the security services would be available to provide effective security for peace and progress.
Other facilities and tools required through ministries, departments and agencies for progress would also be available to enhance the populace's standard of living for sustainable development, he added.
Source:GNA