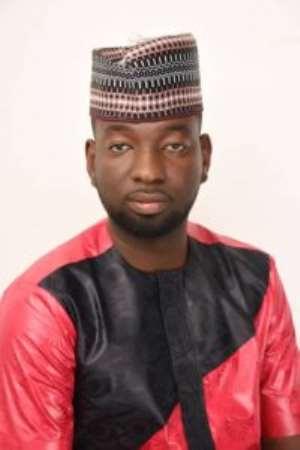 Miss Khadijatu Iddrisu has received an award on behalf of the affable and astute businessman Alhaji Salamu Amadu, the group Chairman of the Afro Arab in Gambia.
The Chairman of the Afro Arab Group of Companies, Alhaji Abdul Salamu Amadu was awarded as one of the most influential leaders across the globe. The award which was organised by the Pan African Youth Leadership Foundation and hosted by the African Europe Leadership Summit at Banjul in Gambia selected recognised thirty most influential global young leaders across the African and European continent.
Miss Khadijatu Iddrisu on behalf of the business magnate commended the organisers for recognising people like Alhaji Salamu who has contributed significantly to the socio-economic development of people in Ghana especially in the Zongo communities.
The summit which was held on september 28, 2019 at Banjul, in Gambia was on the theme "the role of young people in global development".
The event brought together the likes of Mustapha Njoe, Karima Hanem, Zainab Akingbehin, Ichechi Okonkwo, Esther Barao among some notable personalities.
Alhaji Abdul Salamu Amadu is a young entrepreneur, philanthropist, co-founder of soccer time Africa and the president of Spartans FC.
He looks forward to bringing social and economic change not only in the zongo communities but Ghana and the world beyond.
He dedicated the award to the Young People of Ghana especially people in the Zongo communities and advised them to work hard as they can equally achieve such feat in various areas of their endeavours.