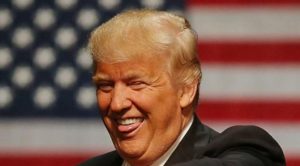 Bulgarian Socialist Ally Rumen Radev, a Russia-friendly newcomer to politics, won Sunday's presidential election by a wide margin, exit polls showed, prompting Centre-right Prime Minister Boiko Borisov to pledge to resign. Radev, 53, entered Bulgarian politics on a wave of discontent with the ruling center-right's progress in combating corruption, disappointment with the European Union and concerns among voters over alienating an increasingly assertive Russia.
The French far-right party led by Jean Marie Le Pin is also on the ascendancy and they are tipped to perform wonders in their country's upcoming elections. Now, this comes at the heels of Donald Trump and there's another episode in the offing in Moldova.
Tenets of democracy
In every society, leaders do emerge at specific periods to render specific service to their country and leave a legacy which could either be seen as positive or negative, depending on who is doing the assessment and through what lens. What is therefore important is the overriding approval by the people whose lives have been positively affected by decisions of these leaders, when they were given the opportunity to serve.
The path to attaining this leadership position is also very important; this is because, there are instances where people seeking the highest office of the land, often make promises which they are either not ready to fulfill, or simply do not have the capacity to deliver. For such people, empty talk and baseless aspersions then become their sole delight on campaign platforms, while relegating to the background, the real issues bordering of the people's welfare.
Trumping Trump
The rest of the world woke up in shock and awe as USA decided to create a NEW WORLD ORDER by granting Donald J. Trump a stunning victory that many like me find it very difficult to comprehend. Have we any choice? Majority rule simply prevailed for a ''Trumping'' Trump Pence leadership regardless of the backlash, scathing attacks, and devastating revelations.
Losing an election to a candidate who proved beyond measure to be immeasurably divisive and unpopular as Donald Trump baffles my thinking (I JUST CAN'T THINK FAR) whereas serving as an indictment on the opinion poll, pollster predictions, media hype, influential celebrity endorsement and agonized objective analysts and floating voters for years to come.
Suffice it to say, we await the permeating factors that guaranteed this shock wave and once the ''shock fever'' passes, we would surely be privy to glimpses of some rational explanation for such reality. Scholarly definitions of politics, elections, poll projection, expert analysis, mass opinion heavily defeated by the seemingly unexpected outcome.
The 8year convention
Trump's victory has further deepened the believe that incumbent parties rarely hold on to power after eight years (the case of my Ghana) in office. Political allusions point to the very fact that George H.W Bush, following Reagan, was an exception, but politics has become progressively more polarized since those years and symbolically pendulums have a habit of swinging in that regard.
Another factor which cannot be left in oblivion is the issue of a disgruntled youth (white majority) who feel immigrants and foreigners alike have taken their places for the rare socio-economic opportunities on the social stratum of the USA.
On December 7,2016, Ghanaians will be going to the polls to elect someone to steer the affairs of state for the next 4years.as we speak, the nation is awashed with campaign messages by the various presidential candidates.
Coincidentally, developments in America, election-wise, have often reflected on what happens here in Ghana, since the inception of our fourth Republican democratic dispensation. Since the era of President William Jefferson 'Bill' Clinton in 1992 when Ghana ushered in the 4th Republican democratic dispensation, no political party in either county has won a 3rd consecutive term of office.
Again, within the same time frame, anytime there is a Democratic President in the White House, there has been an NDC President in the Castle; and anytime there is a Republican President in the White House, there has been an NPP President in the Castle [the Jubilee House]. And for baseless propaganda point-scoring, top NDC government officials and their legion of praise-singing assigns, erroneously, went about equating whatever was transpiring in the US electioneering campaign to what is going on here in ghana.at a point in time, the 59year-old John Mahama was being called "Obama", for reasons which virtually do not exit.
Propaganda gone-wrong
The likes of Edward Omane-Boamah, Felix Ofosu-Kwakye and Samuel Okudzeto-Ablakwa were always on radio/tv programs claiming that John Mahama is preaching peace and hope, while their biggest incorruptible nightmare Nana Addo Dankwa Akufo-Addo is preaching "hopelessness' because he talks about how our country's economy has been totally destroyed and state coffers looted by government officials.
These afore-mentioned NDC 'adults with metal teeth' have made it their avowed enterprise to always malign Nana Addo, at the expense of selling the so-called miracles performed by their party leader John Mahama. This has gone on for so long that, inadvertently, John Mahama have had the cause to complain about his so-called 'miraculous works' not being trumpeted enough to the hearing of ordinary Ghanaians.
The time and energies of these NDC propagandist have rather been wasted on venomous vilification of Nana Addo's person, while banking their completely dwindled electoral fortunes in the upcoming December 7,2016 general elections. For instance, on the Wednesday 9thNovember,2016 edition of OK-FM morning programme, the NDC national organizer/director of operations for NDC campaign-2016, Kofi Adams is on OK-FM desperately linking John Mahama to Donald Trump by claiming that both "emerged from nowhere to lead their political parties and went on to win one-touch victory".
In the same interview, Kofi Adams touted the so-called performance of John Mahama and said though Obama did a good job and was very popular, his party has still lost the elections because voters vote for personalities and not political parties.
The General Secretary of the ruling NDC party, Asiedu-Nketia said on Tuesday,8th November edition of OK-FM morning programme, that, the Democratic party in America represents the NDC while the Republican party represents NPP, and that, what happens in the American elections, winner-wise, is what will happen here in Ghana, come 7th December, 2016.
According credible intelligence some of us have chanced upon, the NDC has actually rdered, from China, massive volumes of paraphernalia [t-shirts, hand-bags, caps, wrist bands, bandanas, aprons etc.] embossed with images of John Mahama and Hillary Clinton, to be distributed to at their campaign rallies with the message that the democrats are their ideological allies so once they have been triumphant in America, the same scenario was going to play out in our upcoming 7th December,2016 general elections. But god being so good, Donald Trump pulled a huge surprise, and this planned propaganda party has suffered a dramatic still-birth.
Trump attributes
Donald Trump is business-minded, abhors corruption in political officialdom, vowed to protect America's borders, cut taxes, slam the door on potential terrorists and keep out illegal aliens. On the other-hand, NDC eulogizes corruption in political officialdom, opens our borders to allow aliens to flock into Ghana to influence who becomes our president, raises taxes to astronomic levels and opens our doors to al-Qaeda terrorists from Guantanamo. Effectively, NDC loves to associate itself with the democrats in America but completely jettison the commensurate integrity and incorruptibility.
Following the electoral success of Donald Trump, these loud-mouth NDC propagandists that were all over the place drawing similarities with results of American elections with what was going to happen on 7th December,2016, here in Ghana, they have gone completely silent on their insipid propaganda, quietly licking their wounds and fearing for same fate to befall them.
Now, some of us observing from afar, erroneously saw these campaign messages by the man, as 'warmongering' and anti-immigrants but what we didn't understand is the fact that, indeed, Donald Trump was only providing a voice for a genuine pent-up 'anger' in the American system which everyone was scared to talk about, for fear of being demonized. Incidentally, the same scenario is clearly playing out here in Ghana, as 7th December, 2016 fast approaches.
Justice Abeeku Newton-Offei
E-mail: justnoff@yahoo.com