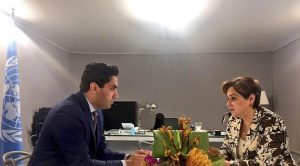 At the UN Climate Change Conference in Marrakech (COP22), young people have been vocally pushing for more climate ambition and for a stronger role of youth in helping to shape climate policies and implementing the Paris Climate Change Agreement and the new Sustainable Development Goals.
The United Nations recognizes the need to involve young people in the UN climate talks, given that their futures are threatened by the impacts of climate change such as greater incidences of drought and flooding, and that young people profit the most from the transition to low carbon and resilience.

Addressing youth on Young and Future Generations day at COP22, the Executive Secretary of the UN Framework Convention on Climate Change Patricia Espinosa said:
Young people want to be involved in the process, and we value that interest. It is central to all the questions we are addressing here. I also want to encourage you to get involved in your communities and at the national level.
Education, training and public awareness on climate change – "Action for Climate Empowerment" (ACE) – is the focus of Article 6 of the United Nations Framework Convention on Climate Change. The Action for Climate Empowerment team worked alongside UN agencies, youth organizations and Connect4Climate to host the Young and Future Generations Day at COP22.
The Young and Future Generations Day included an Intergenerational Inquiry and other youth-led side events, workshops and activities to showcase innovative, ambitious and creative climate action taken by young people around the world, such as the COP 22 Youth Awards screening of the winning projects of the Global Youth Video Competition 2016 and Film4Climate . These competitions called for videos emphasizing what people around the world are doing to promote action, offer new solutions and inspire change.
Faouzia Bahloul from Tunisia, one of the winners of the COP22 Youth Climate Competition
The Intergenerational Inquiry was the highlight of the Young and Future Generations Day. It was organized jointly by the UN Joint Framework Initiative on Children, Youth and Climate Change, the UNFCCC secretariat and by YOUNGO, the official non-governmental youth constituency of the UNFCCC.
Timothy Damon, YOUNGO focal point in Marrakech said:
"Today we recognize young people have a crucial role to play in the implementation of the Paris Climate Agreement. We are already taking great initiative on climate action, but need mentorship and financial resources from their elders to fully unlock their potential as a generation of change makers."
Ahmad Alhendawi, UN Secretary-General's Envoy on Youth said:
''As we gather here and as we try to engage young people in many different ways to come and join our forces for the implementation of the Paris Agreement and the Sustainable Development Goals we cannot afford to leave anyone out, we really have to diversify our outreach tools in every way. My continuous struggle is to figure out how we can fully engage people.
….Young people's preferences keep changing; what they like today, they might not like tomorrow, and our job is to keep catching up with them. So I think we are doing something smart here today by not claiming of knowing what young people want, but rather letting them present themselves to tell and show us what works.''
Since 2005, the Conference of Youth (COY) has been held every year, a few days before the annual UN Climate Change Conferences organized by local youth organizations. This year it's twelfth edition was held in Marrakech (COY12, 4 – 6 November). Local COYs around the world took place in advance of the Conference of Youth in Marrakech to give voice for the youth on climate.
The local COYs produced great input from regional youth perspectives on climate solutions, which were discussed at the COY12 in Marrakech. It was also an opportunity to elaborate on the main outlines of Action for Climate Empowerment (ACE), which is an important framework from the perspective of youth to strenghten education and public awareness among young people and future generations on climate change.
The outcomes were further developed by YOUNGO into a final policy paper, which was presented at the Young and Future Generations Day.
At the Young and Future Generations Day discussions were held by youth leaders and high-level representatives, giving young people a voice in the midst of COP22.
The UN climate change conferences have never seen such active engagement of young people before as in COP22 in Marrakech. The world needs leadership on climate change and young people are stepping up to the challenge!