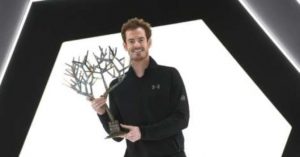 The ATP on Monday crowned Andy Murray king of the tennis world but the Scot must now plot how to stop Novak Djokovic grabbing back the number one place at the Tour Finals.
The 29-year-old Murray — the oldest player to become number one for the first time — won the Paris Masters on Sunday and immediately headed back to London to prepare for the finals.
"It might only be for one week. So I might as well try and enjoy it because I could lose it at the Tour Finals and never be there again," said Murray.
Murray, who beat American John Isner 6-3, 6-7 (4/7), 6-4 in Paris for his eighth tournament win of the year and fourth in a row, should be top for at least two weeks.
Murray is 405 points above Djokovic in the new rankings. The Serb — who had been number one for 122 weeks before losing his Paris quarter final — could go top again if he lands a fifth straight Tour Finals crown.
"I wasn't thinking so much about the cushion or anything like that at the top. I'm obviously happy I got there. It would be nice to finish the year No. 1, but I'm happy that I managed to get there," said Murray.
play
Tennis rankings (AFP)
For more sports news visit allSports.com.g