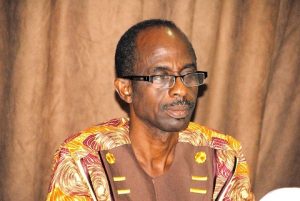 General Secretary of the National Democratic Congress [NDC], Johnson Asiedu Nketiah says the ruling party only responds to relevant issues from prominent people in their party – hence, the recent "we kill people everyday" comment by Naaba Abdulai junior brother of Hon. Collins Dauda is "none of their business".
"So must we respond to or condemn Naaba's comment because he is the younger brother of Collins Dauda? What position does he hold in the party to attract our attention and condemn his comment?" he quizzed.
Adding that, "If that should be the case, then any comment passed by any NPP member must be condemned by Nana Addo because he is their leader and known for such war comments".
Naba, who is the junior brother of MP for the Asutifi South Constituency and Minister for Local Government, threatened to deal with the NPP's Kennedy Agyapong should he set foot in the area.
According to him, the NPP's Assin Central MP had earlier threatened to unleash the party's Invisible Forces on him come 7th December.
In an interview with Kwabena Prah Junior on Agyenkwa Fm's "Agyenkwa Dawuro", the Minister's junior brother vowed to pummel Kennedy Agyapong mercilessly should he step foot in Asutifi South describing the NPP MP as a mad man who only rants unnecessarily.
"Who is Kennedy Agyapong to threaten me with death we have been involved in the act of killing before he was born? I have ended the lives of several people, and I will finish anybody who harbours bad intentions towards me before his time," he concluded.
Speaking to the issue on NEAT FM's morning show 'Ghana Montie', the NDC's Chief Scribe popularly known in politics as 'General Mosquito' noted – 'The boy was threatened, and he replied. What do you expect from a young man in the village who has been threatened (with death)?"
"Nana Addo's 'All die be die' comment and Kennedy Agyapong's irresponsible utterances were what informed Naba's killing comment. Why must Naba be condemned when we have not condemned Nana Addo and Ken Agyapong?"