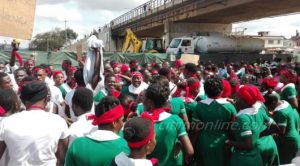 Members of the Ghana Registered Nurses and Midwives Association (GRNMA) have threatened a complete withdrawal of their services if their concerns are not addressed.
In the meantime, the association will continue with their withdrawal of Out Patient Services from all public hospitals.
The nurses withdrew their services earlier this week over unpaid salary arrears for three months, concerns with the non-posting of graduate nurses and the lack of logistics for their duties.
Speaking to Citi News, the General Secretary of the Association, Perpetual Ofori Ampofo, said a dialogue with government has been fruitless.
"We have so many unresolved issue and we have tried as much as possible we have tried as much as possible to dialogue with the employer and stakeholders to make sure issue are resolved but they have not been resolved."
Perpetual Ofori Ampofo also lamented the lack of personnel adding that "the workload on some of our colleague in some of the remote areas is so much."
She explained that negotiations were still on-going with government and the other relevant agencies but they are yet to reach clear consensus on issues like timelines for addressing their concerns.
"The discussions are still on-going because some to the issues, we still need some clarity on them… By the 14th of November if the issues are not resolved, we will embark on a total withdrawal of our services."
Despite the ultimatum, Perpetual Ofori Ampofo indicated that "we are still having a lot of discussions with our stakeholders. They have shown good faith in all this, especially our sector minister and we are on course. We are trying as much as possible to have resolution to all the matters."
–
By: Delali Adogla-Bessa/citifmonline.com/Ghana