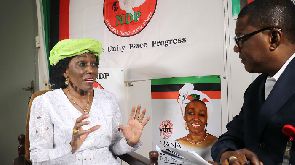 he only female presidential candidate in this year's elections, Nana Konadu Agyeman-Rawlings, has said Ghana is ripe for a woman leader to steer the affairs of state.
According to the presidential candidate of the National Democratic Party (NDP), from 1957 to date, Ghanaians had had men at the helm of affairs of state and that it was time for a woman to be given the opportunity to lead and get the country to work again.
"Women's vital role in promoting peace in the family, the country and the world at large is not in question and they must be given the chance to play a critical part in identifying and assessing solutions for the betterment of the country", she underscored.
Temporary upset
In an exclusive interview with the Daily Graphic at her office in Accra yesterday, Nana Konadu said it came as a shock to her and the NDP when her presidential nomination forms were temporarily rejected by the Electoral Commission (EC).
She said that decision by the EC made her upset and momentarily halted her presidential ambition.
Nana Konadu is the longest serving First Lady of Ghana from June 4, 1979 to September 24, 1979 under the Armed Forces Revolutionary Council (AFRC) and from December 31, 1981 to January 6, 1992 under the Provisional National Defence Council (PNDC), two military regimes headed by her husband, and from January 7, 1992 to January 6, 2001 when former President Jerry John Rawlings had his two terms as a civilian Head of State.
"Even though we had a hiccup with our initial rejection, we knew we did nothing wrong to warrant such disqualification", she said.
She explained that a team, led by the NDP's general secretary and the youth leader, had gone round the whole country and got party members to fill the forms.
She described the initial rejection as a set back and the NDP had to spend a lot of resources in a legal battle, saying: "We, however, encouraged our members not to relent but continue with their good work because we knew all along that the truth would prevail".
NDP to contest 35 seats
On whether the NDP's inability to contest parliamentary seats in all the 275 constituencies across the country would take a toll on its electoral fortunes, Nana Konadu posited: "That will not have an adverse impact on the party's campaign because it has members and supporters in every constituency working really hard to get the needed votes".
Out of the 275 constituencies, the NDP managed to contest the parliamentary election in less than 40 constituencies.
She explained that it was sad that the EC had tried to truncate the growth of democracy by slapping huge nomination fees on parliamentary aspirants who would, otherwise, be parliamentary candidates.
"We felt a bit sad that we jumped from GH¢1,000 to GH¢10,000. It really does not look like we want people who have good ideas and good knowledge to get into Parliament. We rather want people who have the money. So what kind of Parliament are we growing and what kind of democracy are we looking for"? she asked.
NDP manifesto
On what Ghanaians should expect from a future NDP government, she hinted of using the best brains and resources available to turn the economy round and bring unity, justice, peace and progress to the people.
She said the NDP's manifesto on the theme: "Bold Action to Put Ghana Right Again" was ready to be launched soon.
"We need to have boldness to correct the ineptitude and the things going wrong in the country", she stated.
Empowering women, children
Nana Konadu, who is also the President of the 31st December Women's Movement, said her key motivation was to empower women and children at every level of development to enable them to contribute to and benefit from the socio-economic and political progress of the country.
Her broad-based, development-oriented non-governmental organisation (NGO) aspires to emancipate women through their effective mobilisation.
Additionally, her movement set up more than 870 pre-school facilities in Ghana and worked actively to stir up interest in child development and family planning.
Meanwhile, currently the movement is facing some challenges, including access to finance.
Will Rawlings join the NDP campaign?
Speaking on a broad range of issues, including whether former President Rawlings would join her campaign to become President of Ghana, Nana Konadu averred that her husband had always given her the needed morale support.
She, however, said the former President had done his part for her and also worked tirelessly for the country.
"It is time to allow him to work on his memoirs and build his foundation", she said.
Political violence
Nana Konadu condemned the riots that took place near the residence of Nana Addo Dankwa Akufo-Addo, the flag bearer of the New Patriotic Party (NPP), and called on the ruling National Democratic Congress (NDC) to "keep their eyes on the ball" to avert political violence as the country approached the crucial December 7, 2016 elections.