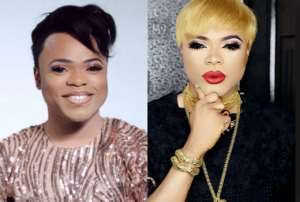 Bobrisky born Okuneye Idris Olarenwaju, is a Nigerian Internet personality and entrepreneur who is known for his social media skill especially with the use of Snapchat, a social media application. He was born in 1992.
Bobrisky finished his secondary school education from King's College in Lagos State. He also attended graduate school at the University of Lagos, (UNILAG).
He became recognized by being highly controversial on social media. Bobrisky was able to gather traffic to his Snapchat account when he claimed he had a lover who is assumed to be of masculine gender despite the Nigerian constitution at that point in time which made such same-sex relationships an offense punishable by serving 14 years in a penitentiary.
By virtue of his character, he introduced into the Nigerian society a set of ethics and morals which are not aligned with the Norm of Nigeria. As so, he has been received with mixed feelings as he has a fair number of fans as well as critics. He has been asked by some event planners to go give a speech at their events. On a notable occasion, a Nigerian presidential aide for reasons best known to him walked out on sight of Bobrisky at the residence.
Bobrisky Age
He was born in 1992.
Bobrisky Net Worth
His net worth is estimated to be about $250,000
Bobrisky Religion
He is a Muslim but love going to church. His parents are Muslims. In an interview, he said, "I am not a practicing Muslim. If I have to be a practicing Muslim, I will have to do ablution five times a day and apply make-up after each ablution and that will be very stressful."
Bobrisky Sexuality
Source: Vanguard Nigeria
Bobrisky has had to answer questions too many times about his sexuality that he just doesn't give a damn anymore. Some have called him gay, while others toy with the idea of him being a transgender, but whatever dirt has been hurled at this male Ogun State indigene, he has remained resolute and ready to throw back his own punches.
The guy, who once told Potpourri in a chat that both men and women envy him, has thrown shade at Nigerian women, saying he is prettier than 70% of them, telling them to stop hating him and appreciate the fact that he is a successful entrepreneur.
In an Instagram post, he wrote: "I'm prettier than 70% women in Nigeria, so, please stop hating, come and learn from Bobrisky. Did I hear some of you saying I don't have a pussy and breast? Oh sorry, what has your breast and pussy given you? iPhone and 100k? I am sorry for you. I don't have any butt but my bae got me a Benz and a house. Some of you that have breast and pussy, have you asked yourself why your man still cheat on you. Awon Olodo. The day the bloggers will know my bae, chai, most of you girls will cry." Of course, Bobrisky has denied being gay, but more and more of his posts in recent times are running contrary to that. When one of his followers told him he's sick to have posted such, he simply replied, " You are sick too, use your unfollow button, bastard"
Image source: talentshowsite.com