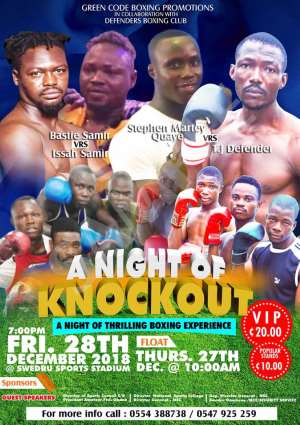 The nights of thrilling boxing experience, dubbed "Nights Of Knockouts", will come off Thursday and Friday, December 27th – 28th respectively at the Swedru Sports Stadium where about 40 juvenile, amateur and professional boxing championships will battle over the supremacy title in the two nights.
The Public Relations officer of the Local Organising team Mr. Oti Faaben Kakra told ghnewsfilla.com in an interview that the event will give audience value for their money.
According to him, there would be a special justification bout among 40 selected boxers at Swedru in the Central Region to make the final selection for the Ghana National Boxing team, the Black Bombers.
He proceeded by saying the event will be sanctioned under Green Code Boxing Promotions and ably coordinated by Yidana Kugbila the regional coach and added that Boxing superstar Basti Samir and the national boxing coach Dr Ofori Asare will also be there to grace the occasion.
Mr. Oti Faaben Kakra noted that the fight nights will also witness an entertainment package and musical interludes from high profile musicians in the Central Region.
The renowned journalist further disclosed that the event is also been backed by the Ghana Boxing Federation and the Ghana National Sports Council.
He, however, called on the public and stakeholders for support to make the nights a grand one
"We are therefore making a courtesy call to all major stakeholders within and outside the Central Region from potential sponsors, the media,corporate bodies and the general public at large to make this unprecedented event a great success"
The 'Nights of Knockouts' is brought to you by Green Code Boxing Promotions in collaboration with Ghana Boxing Federation and the National Sports Authority, with support from the local organising committee which Includes regional coach Sani, Hon Wahab Munkaila as Coordinators. Mr Adnan who is the promoter, and Mr Chibsah the Organiser.